Should the Dallas Stars require proof of COVID-19 vaccine at the arena?
Should the Dallas Stars join the growing number of professional sports teams requiring proof of vaccination to attend home games?
It is difficult to have a COVID-19 conversation within a group without sides escalating into verbal warfare. Blackout Dallas in not interested in taking sides, but we acknowledge the conversations must be had. COVID-19 remains a problem and the potential exists for poor mitigation protocols to result in delays to the NHL season.
There is arguably no NHL team more familiar with disarray caused by the virus than the Dallas Stars. One might assume the Stars' issues with COVID-19 during the 2020-21 season would result in aggressive mitigation protocols at games.
On Tuesday, the Seattle Kraken were the latest to announce proof of COVID-19 vaccination will be required to enter Climate Pledge Arena. Seattle joins the Winnipeg Jets, who announced the same policy will be implemented for fans entering the Canada Life Centre.
Fans of both teams attending home games will also be required to wear masks inside their respective areas. We expect a majority of the NHL's clubs to adopt similar policies in the coming weeks. Some teams will act on their own accord while others will be forced to comply with state and county mandates.
The Dallas Stars will be one of the last NHL teams to require proof of vaccination, if at all. We believe such after following COVID-19 policy trends in Dallas County and the State of Texas. It is also unlikely the Stars adopt in-area policies that differ much from the other professional sports teams in the State.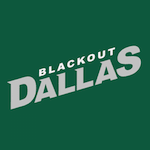 Want your voice heard? Join the Blackout Dallas team!
Write for us!
Currently, the Dallas Cowboys do not require fans to show proof of vaccination for entry into AT&T Stadium. The AT&T Stadium policy is interesting considering Jerry Jones' recent remarks that advocate the COVID-19 vaccine. Additionally, fans attending Texas Rangers games do not need to flash their CDC card before entering Globe Life Field.
The American Airlines Center does require fans to wear masks while inside the arena, regardless of vaccination status. Such protocol aligns with current Dallas County policy that mandating masks be worn in certain public spaces. Wearing masks in public spaces is frustrating, but masked fans is better than the alternative protocol of no fans at games.
The last thing Dallas Stars fans want are empty arenas and fake crowd noise during the new season. -J.G.
Do you think the Dallas Stars should require proof of vaccination to enter the arena? Shoot us your take on Twitter.