Will the Dallas Stars be buried by the incoming avalanche?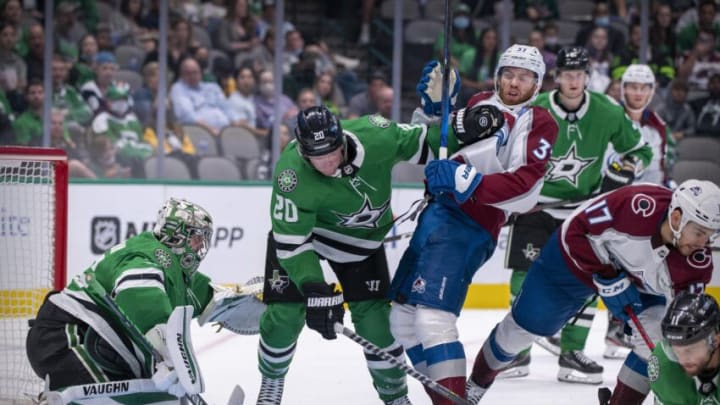 Oct 7, 2021; Dallas, Texas, USA; Dallas Stars goaltender Anton Khudobin (35) and defenseman Ryan Suter (20) defends against Colorado Avalanche left wing J.T. Compher (37) during the third period at the American Airlines Center. Mandatory Credit: Jerome Miron-USA TODAY Sports /
The Colorado Avalanche will be in town tonight to take on the Dallas Stars. This will be the first matchup against them this year during the regular season for the Stars. The Stars cannot afford to get buried deep in the division by losing another pivotal matchup. Here is how the Stars can avoid the incoming avalanche.
Dallas Stars vs Colorado Avalanche: 3. Start scoring early
The Stars need to continue to put pressure on the opponent as they have done this season. The only way you can win big games likes this is to score first and score often after that. Knowing how good the Avalanche are in our division, you have to beat them while they are down.
Dallas Stars vs Colorado Avalanche: 2. Keep playing Oettinger in net
Jake Oettinger has continued to put on a performance this season after winning 4-1 against the Edmonton Oilers. He also snapped Connor McDavids point streak at 17 this season. You can't bench him after that performance, you got to reward him with another start between the pipes.
Dallas Stars vs Colorado Avalanche: 1. Remind them who's boss
The Stars and the Avalanche have turned into a rivalry that dates back to the 90's when Joe Sakic and Mike Modano would face off against each other. The rivalry still continues to this day and each game gets very physical. The Stars have to show Colorado they aren't the big dogs that they once were.
Avalanche player to watch
Cale Makar
Makar is the leading scorer on the Avalanche this season with eight goals. He is basically taking over as the scoring leader after Matt Duchene was traded. The Stars have to have a guy on him during this game. After seeing what Miro did last game to McDavid, I would put him on Makar tonight.