2023 NHL Draft: 3 players the Dallas Stars could draft 61st overall
The 2023 NHL Draft is creeping up upon us way faster than anyone could've ever imagined. With the season being over and the Stanley Cup being awarded, every team in the league is faced with making tons and tons of decisions, especially when it comes to draft time. This year, the Dallas Stars do not have any 1st or 3rd round draft picks and one pick in each of the other rounds. Since their first pick is going to be the 61st pick overall, it's important to analyze what players they should be looking more closely at when it's game time for decision-making.
Which three prospects should the Dallas Stars be looking at for their 61st overall pick in the 2023 NHL Draft?
In no particular order, here are the top 3 players that the Dallas Stars should consider drafting first:
2023 NHL Draft: 1. Zach Nehring (RW)
Stats: 47GP, 33G, 38A, 71P
In his past two seasons with Shattuck-St. Mary's, Nehring had a total of 65 goals and 172 points in just 111 games; in fact, he almost single-handedly led his team to their seventh Tier 1 National title (in this particular tourney, he had a total of 5G and 6A for a total of 11P – 3rd best amongst all other players back then).
He's a big guy standing at 6'3″ and isn't afraid to use his size to be physical; he also isn't afraid to hang out in the crease during any given game(s). He's good at using his size to protect the puck. Nehring could find himself a nice home on the Dallas Stars; with a ton of free agency moves set to begin and happen, the Stars are going to need those young and fresh players to get in all of the action with their current dream team. It might be worth taking a flier on him and drafting him in the 2023 NHL Draft.
2. Dylan MacKinnon (D)
Stats: 61GP, 6G, 17A, 23P
Before anyone goes on judging this kid for his lack of goal-scoring and all of that, he's a defenseman! Statistically, D-men don't score nearly as many goals as some of their other teammates, but their goal is to defend their team, the puck, the goal, and protect all of the above as well. That being said, sure, a super high-scoring defenseman is a good thing, but you don't necessarily need that as it may start to take away from some of their other duties.
One word that comes to mind when thinking or talking about MacKinnon is reliable. He's truly a reliable D-man who is difficult to go up against when he's defending the rush. No matter what, which is something that may benefit the Dallas Stars more than you think, never cheats on the play and is always showing some great gap control in literally all of the games that he played in.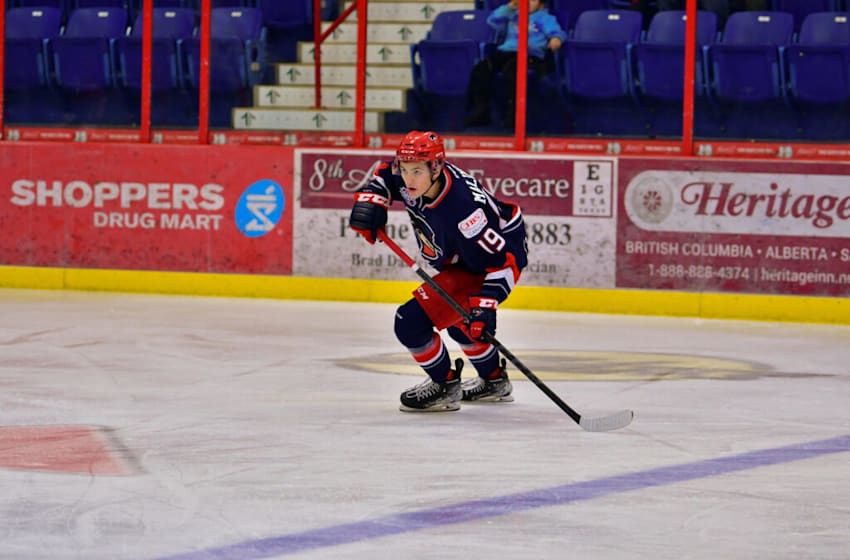 3. Hudson Malinoski (C)
Stats: 44GP, 16G, 53A, 69P
Holy assists, Batman! Malinoski might not be the highest goal scorer on his current team, but he sure does know how to help in doing so at the very least. This guy really is a Comeback King. Just a few years ago, Malinoski suffered a fall from the roof of his family's house that could've changed everything (might not have even been in this conversation in general); in fact, it nearly completely and totally ended his hockey career as a whole.
According to The Star Phoenix, here's what happened: "…was shoveling snow off the roof to make a gnarly snowboard jump…fell hard from a 10-to-12-foot perch…was left with a torn vertebral artery, which is located in the neck and supplies blood to the brain…wasn't sure if he'd ever play hockey again…if left untreated, could cause a stroke or aneurysm".
He's a big guy, which can always help a team, especially a team like the Dallas Stars. From what he's already been through in his short life thus far, Malinoski is sure to remain a fighter for whichever team (hopefully the Dallas Stars) that he ends up on! It looks like he is committed to playing at Providence College in the fall so it might be awhile before we see him in victory green.
That's a wrap on who are the top 3 players that the Dallas Stars should be looking to draft first!
Overall, the Dallas Stars still have a ton of great talent on their team, but a lot needs to be done in order to continue to succeed and have yet another chance at both the Stanley Cup Playoffs as well as hoisting up that cup into the air as well.