Dallas Stars hockey is about to be the main attraction in Dallas this year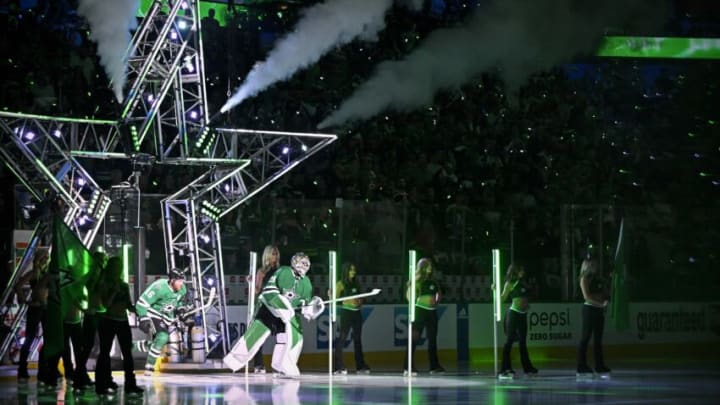 May 25, 2023; Dallas, Texas, USA; Dallas Stars goaltender Jake Oettinger (29) and center Joe Pavelski (16) take the ice to face the Vegas Golden Knights in game four of the Western Conference Finals of the 2023 Stanley Cup Playoffs at American Airlines Center. Mandatory Credit: Jerome Miron-USA TODAY Sports /
As we are a month out from the beginning of training camp and the preseason, the Dallas Stars announced something massive this morning. They announced that the entire lower bowl and Platinum Club Victory Club Memberships are sold out this season. That is something that hasn't happened for the Stars since they moved to the American Airlines Center and created the Victory Club. It means that people are starting to realize that Dallas Stars hockey is relevant again and ready to compete for a championship.
It seems like the Dallas Metroplex was really tuned in when the Stars had their playoff run last season that ended in the Western Conference Finals. It stinks that we couldn't get to the Stanley Cup Finals against the Florida Panthers. The Stars had a really good shot at possibly beating them and taking home the Cup last season. With playoff teams getting healthy and stronger again. it seems like the Stars will have a tougher time getting back to the Western Conference Finals this season.
I remember those polls on social media asking sports fans which Dallas sports team will win a title first. It seemed like the Dallas Cowboys and the Dallas Mavericks were usually one and two in the polls. I hated seeing that the Dallas Stars were the least voted-on team. Give the Dallas Mavericks and the Cowboys credit for building really good teams, it's just they can't perform in the postseason when it matters the most.
The Stars were picked as a rebuilding wild-card team before the hockey season even started last season. It seems like reporters doubted that players like Jason Robertson, Roope Hintz, Jamie Benn, and Tyler Seguin could carry a team to the postseason. Well, I'm sure that those reporters were silent as the Stars defied expectations and got all the way to the Western Conference Finals last season.
It surely surprised the city of Dallas as fans flocked to buy tickets to root for the Stars at their playoff home games. The Stars even made some new fans out of the metroplex. NHL reporters should not count out the Stars this season. They know they have "unfinished business" as they were just short of competing for the cup. The team is even better with the additions of Matt Duchene and Sam Steel. The Stars could have four scoring lines this season.
The news of the two sold-out sections is surely exciting, to say the least. I think a lot of people might have realized that the Dallas Stars are now the favorites to win a title first with that run they had. It also shows that hockey belongs in the southern part of the United States. Texas is usually not known as a traditional hockey market. I think we are about to see why the Stars might be the must-see attraction in the DFW Metroplex this season.