Why are Dallas Stars Wyatt Johnston and Roope Hintz not practicing?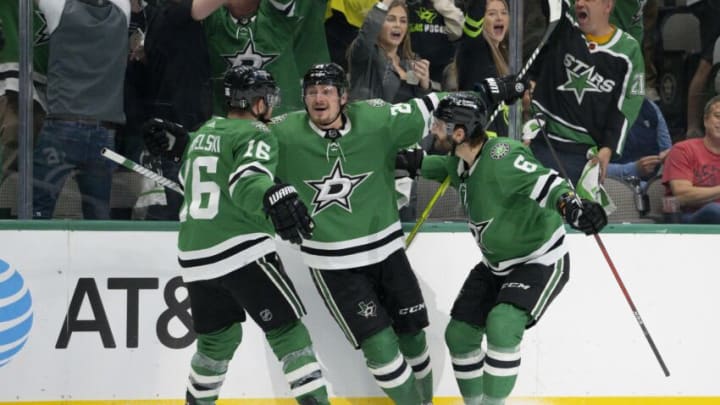 May 15, 2023; Dallas, Texas, USA; Dallas Stars center Roope Hintz (24) and center Joe Pavelski (16) and defenseman Colin Miller (6) celebrates after Hintz scores a goal on a breakaway shot against Seattle Kraken goaltender Philipp Grubauer (not pictured) during the second period in game seven of the second round of the 2023 Stanley Cup Playoffs at the American Airlines Center. Mandatory Credit: Jerome Miron-USA TODAY Sports /
The Dallas Stars are through two preseason games so far and they have looked really good. They have literally outscored their opponents 13-1 through the first two games and everything is going according to plan. However, there is a bit of a concern brewing in training camp right now that fans are somewhat worried about. So far we haven't seen Roope Hintz or Wyatt Johnston practice or play in a preseason game. Let's take a look at the situation and see if there really is a cause for concern.
Dallas Stars Wyatt Johnston and Roope Hintz Injury situation: What's going on right now?
So right now two of the Stars' top players are dealing with injuries in training camp right now, Johnston and Hintz. Hintz reportedly has an upper-body injury and Dallas Stars Head Coach Pete DeBoer doesn't think it's that serious. I made a joke on the Blackout Dallas Twitter page that Roope Hintz is just regrowing his hair so his scoring powers come back. Johnston didn't skate today as well and DeBoer said he's dealing with something small and isn't worried about it either.
Dallas Stars Wyatt Johnston and Roope Hintz Injury situation: Should fans be worried?
I think fans are really overhyping the situation concerning Hintz and Johnston right now. It sounds like both players have stingers and should be ready to go on October 12th. However, fans should be somewhat concerned if they go into the season without playing a preseason game. It could take them a bit to get back to how they were scoring last year. We still have a lot of preseason games to go so there's a possibility both play in at least one game before the start of the season.
Dallas Stars Wyatt Johnston and Roope Hintz Injury situation: Conclusion
Both Hintz and Johnston will definitely be ready for the home opener on October 12th against the St. Louis Blues. The Stars right now are just being cautious with their injuries since they are a key part of this roster. I think we will see both of them make their preseason debut in the second to last or last preseason game on the schedule. Fans can't wait to watch Hintz and Johnston light up the scoreboard this season and it's just right around the corner.