Another slow start out of the gate gives the Dallas Stars another loss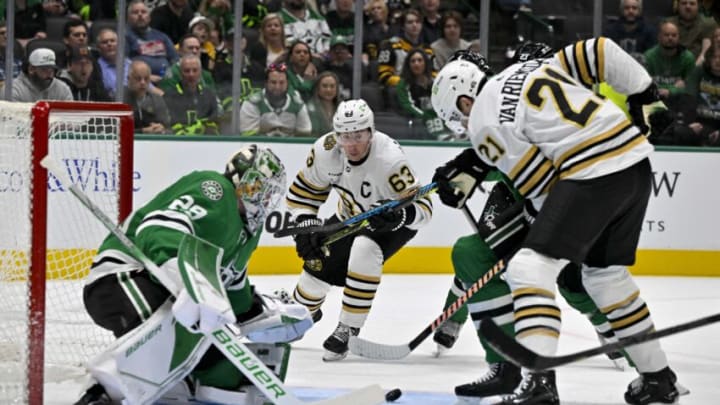 Nov 6, 2023; Dallas, Texas, USA; Dallas Stars goaltender Jake Oettinger (29) and Boston Bruins left wing Brad Marchand (63) and left wing James van Riemsdyk (21) look for the loose puck in the crease during the first period at the American Airlines Center. Mandatory Credit: Jerome Miron-USA TODAY Sports /
The Dallas Stars started slow out of the gate tonight and it cost them tonight against the Boston Bruins. The Bruins got two goals in the first period to kick off the scoring tonight and that was all she wrote for the Stars. The Stars ended up losing 3-2 to the Boston Bruins on home ice tonight.
I know the Stars were short-handed tonight due to injuries but it doesn't excuse the slow start out of the gate. The Pavelski Household got us back into the game but Marchment's penalty in the 3rd period drained all the momentum out of the Stars tonight.. Here are the three takeaways from tonight's game against the Bruins.
Dallas Stars vs. Boston Bruins Recap: 3. Another slow start out of the gate
I don't the pregame Starbucks coffee is cutting it for the Dallas Stars. It was another slow start out of the gate tonight where the Stars looked lost on the ice in the first period. It allowed two Bruins' rookies to score their first career NHL Goal tonight which I will mention in a second. This cannot continue as the season moves along. The Stars' fanbase knows the team is better than this. I don't want to be looking back at this at the end of the season if the Stars finish in second place in the Central Division.
Dallas Stars vs. Boston Bruins Recap: 2. Stop allowing opponent's rookies to score goals
Another day, another rookie scored his first career goal against the Dallas Stars. In fact, two rookies scored their first career goals of the season. Sean Shapiro, the Lead Writer at EP Rinkside and Publisher of Shap Shots mentioned the Stars have given up goals to rookies 13 times since the expansion to 30 teams in 2017.
Tonight was the first time they have given up two goals to rookies in a game. The Stars have got to stop giving up goals to rookies this season. If they earn the goal, that's fine but handing them out like candy has to stop.
https://twtter.com/seanshapiro/status/1721713782076878909?s=20
Dallas Stars vs. Boston Bruins Recap: 1. Offense did get some good shot attempts on Swayman
As the game went along, the Stars were able to get some really good shot attempts on Johnathan Swayman. However, Swayman was a brick wall tonight between the crease for the Bruins. The Bruins have two really good goaltenders and they showed that tonight as Swayman stifled the Stars. Wyatt Johnston probably had the best chance tonight to score a goal against the Bruins. Hopefully the Stars practice tomorrow before hitting the road to take on the Columbus Blue Jackets.