Down on the Farm: Texas Stars split weekend series against the Wild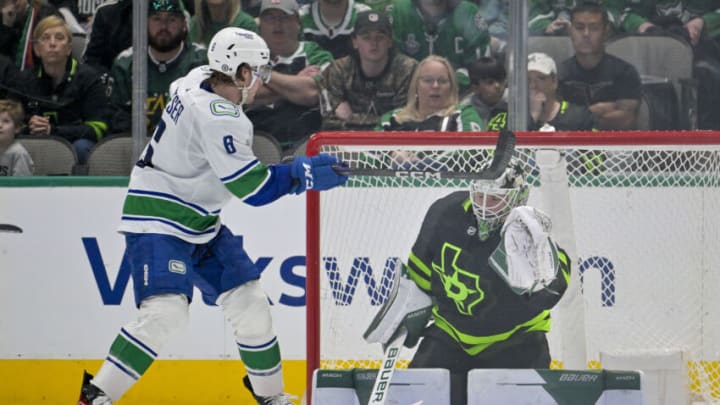 Mar 25, 2023; Dallas, Texas, USA; Vancouver Canucks right wing Brock Boeser (6) attempts to redirect the puck past Dallas Stars goaltender Matt Murray (32) during the second period at the American Airlines Center. Mandatory Credit: Jerome Miron-USA TODAY Sports /
The Texas Stars traveled up to Iowa this past weekend to take on the Iowa Wild on Saturday and Sunday. They needed to get things turned around as a team against Iowa due to their up-and-down play to start the season. They definitely did that on Saturday as they shut out the Wild 4-0. However, their play on Sunday was a bit to be desired as they lost 2-4. Let's take a look at some of the takeaways from the Texas Stars this past weekend on this installment of Down on the Farm.
Texas Stars: Mavrik Bourque and Logan Stankoven make themselves known on the ice on Saturday
The main takeaway from this weekend has to be the play of Mavrik Bourque and Logan Stankoven. I was interested to see before Saturday's game they moved Matej Blumel off the top line. I was concerned that it would hinder the offense of Bourque and Stankoven and boy was I completely wrong about that. Both of them went off as Stankoven finished with four points and Bourque finished with five points.
You can check out the highlights from their best game this weekend down below. Both are quickly excelling at the professional level and when you watch both of them play together on the ice, you wonder why they are down there right now. Well, Jim Nill wanted them to develop their game a bit more before getting promoted to the NHL. They have definitely shown that through all the games they have played together so far this season in the AHL.
Texas Stars: Matt Murray A.K.A. Jake Oettinger Jr
Matt Murray was sensational on the ice this weekend as well despite the 1-1 record he put up in Iowa. He looked like Jake Oettinger's clone out there on the ice with all the ridiculous saves that he made. He even helped keep the Texas Stars in the game on Sunday but eventually, they lost. He's looked a lot better this year so far. He has a 7-2 record against the Iowa Wild and has three shutouts against them.
He seems more focused when tracking the puck and is getting over quicker to make saves. I think Nill made the right call resigning him to be the top AHL goaltender this season down in Cedar Park. Here's his best save from this weekend against the Iowa Wild.
Texas Stars: Upcoming schedule for the Texas Stars
The Texas Stars have a quick mid-week trip up to Rockford, Illinois to take on the Rockford IceHogs which are the AHL Affiliate of the Chicago Blackhawks. They will then return to Cedar Park for a weekend series against the Milwaukee Admirals which is the AHL Affiliate of the Nashville Predators. That's it for this week's Down on the Farm installment, tune in next weekend to see how the Stars' prospects did this week.