The Dallas Stars look to ground the Jets in Winnipeg this afternoon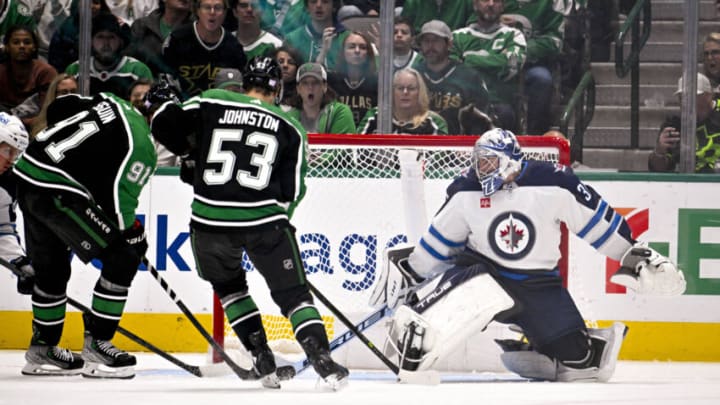 Nov 25, 2022; Dallas, Texas, USA; Winnipeg Jets goaltender Connor Hellebuyck (37) defends against Dallas Stars center Tyler Seguin (91) and center Wyatt Johnston (53) during the third period at the American Airlines Center. Mandatory Credit: Jerome Miron-USA TODAY Sports /
The Dallas Stars continue their mini road trip up north as they travel to take on the Winnipeg Jets this afternoon for a huge divisional matchup. Just an FYI, the game will be played at 2:00 PM CT instead of at night. The Stars overcame another slow start against Columbus on Thursday night winning 5-2. They look to learn from that mistake and make sure that all the jets get grounded tonight. Here are the three keys of the game this afternoon against the Winnipeg Jets.
Dallas Stars vs. Winnipeg Jets Preview: 3. Start the game off with a bang
The Stars need to come out of the gate strong beginning tonight in Winnipeg. The Stars cannot afford to get behind early to the Winnipeg Jets. When I watch hockey games, I like to see the Stars take the opponents out of the game early on by putting them in a huge deficit. They have to take the Jets out of the game early so they don't have any momentum going into the second period. The Stars have to send a message to their divisional opponents that they mean business this year.
Dallas Stars vs. Winnipeg Jets Preview: 2. Shut down Kyle Connor
The Jet's big offensive threat so far this season is Kyle Connor. He is currently leading the team with eleven goals and five assists this year. The Stars have to make sure that he is not wide open like Boone Jenner was the other night in Columbus. The Stars should make his life miserable tonight by being aggressive and taking the puck away before he can get a shot on our goaltender. If the Stars can shut him down tonight, they have a good chance of coming away with two points.
Dallas Stars vs. Winnipeg Jets Preview: 1. Get Seguin's line in a groove
Tyler Seguin's line has been one of the biggest surprises so far this season. They have produced a bunch of the goals that the Stars have scored this season. They were synchronized on Thursday night as they reached scored a goal to help the Stars beat the Blue Jackets. The Stars need his line to get going early tonight in the first period. If the Stars can get this line to produce some offense and help set the tone of the game, we can definitely ground Winnipeg's fleet of Jets tonight.