Dallas Stars' Chances of Qualifying For Stanley Cup Playoffs
Is it time to pack up and go home? Is there really no hope left? With 24 games remaining in the season, the Dallas Stars will have to play some exquisite hockey to make a postseason push.
0.21 percent. No, that's not the chances of Bigfoot falling out of the sky and tap-dancing on the roof of the American Airlines Center tonight. That's now the Dallas Stars' chances of winning the Stanley Cup this season.
When it comes to whether they can even qualify for the playoffs, things aren't much better at 2.87 percent. And with 23 games left in the season, those odds seem just about right.
This has not been the great season for the Stars that their fans expected it to be back in September of 2016. After posting a 50-23-9 record in 2015-16 and falling one win short of the Western Conference Finals, many expected Dallas to excel this season.
But now that they are 59 games in, it's clear that they fell well short of their expectations. They are 22-27-10 with 54 points. They have lost three straight and are 1-7-0 in their last eight contests. They sit sixth place in the Central Division and twelfth overall in the Western Conference, with a seven point spread between them and the final wild card spot with a game out of hand.
That being said, the question must be asked. This question is never an easy one, especially for a team that still has legitimate hope in late February. But it must be asked.
Do the Dallas Stars have any shot at making the Stanley Cup Playoffs this season? Or is it all an unreachable dream at this point?
There are always two sides to every story and predictions can only get you so far. For instance, many analysts and writers were projecting Dallas to be a fledgling playoff team, just sneaking in at the cutoff and being an early exit.
But they caught everyone by surprise when they started the season at 9-2-0 and finished the season atop the Central Division and Western Conference. This also goes to show just how far they have truly fallen.
So there is no exact answer. While the majority of people believe that it is time to sell hard, pack up, and prepare for a quick and rambunctious start to 2017-18, there are a few stragglers who are still holding on to hope and just awaiting the miracle run to start.
With the way things are going at the moment, it looks as though the final wild card spot in the West will go to the team with somewhere between 89-91 points. Right now, Dallas sits at 54 points with a possible 46 points left on the board. In other words, if they break the NHL record and win 23 games in a row, they will finish the year with 100 points. Crazier things have happened, right? Right?
That being said, it seems as though the Stars can only realistically give up 10 more points this season. So they can only lose a maximum of five more games this season. That means an 18-5-0 record to close out the season. On the bright side, it would assure Dallas of being the hottest team entering the playoffs. So that's good.
A loss every 3.6 games is acceptable. They will need some three and four game win streaks here and there to get out of the hole. On the bright side, it would assure Dallas of being the hottest team entering the playoffs. So that's good.
To put things in perspective, the Stars have only crafted three different win streaks this season, and none of them have lasted longer than three games. That may prove to be a problem. Especially when there are five other teams in the fight for positioning who are all currently ahead of the Stars right now.
At first glance, all signs point to Dallas already being down for the count. They have won one game so far in February and are about to embark on a one-week break where the opposing teams around them will get a chance to gain ground and leave the Stars in the dust. They are looking more and more like the 2014-15 Dallas Stars and might even be considered less strong and reliable.
But don't forget about that old expression: it's not over until the fat lady sings. In this case, it's not over until the calculator says so.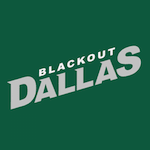 Want your voice heard? Join the Blackout Dallas team!
Write for us!
Sure, the Stars are down and "just about" out. But nothing is already determined (besides the fact that Dallas probably won't finish in last place in the Central).
At this point, there's no time to watch the standings and hope for teams to drop. The only thing they can do is play and try to win. This season has been an eventful one for all of the wrong reasons, but it hasn't ended yet.
You may have already counted Dallas out. Heck, you may even be looking at their odds of winning the draft lottery at this point. But just know that even though things look bleak, their chances have not completely evaporated. It may seem like an impossible hill to climb considering the Stars have yet to prove this year that they can be consistent in winning, but they still have a chance to do it.
I'm not here to sway you one way or the other. I'm simply stating the numbers and facts and letting you choose. Pick whichever side of the fence you want. But make sure that you pick wisely.