Dallas Stars take on their rival to kick off tough slate of upcoming games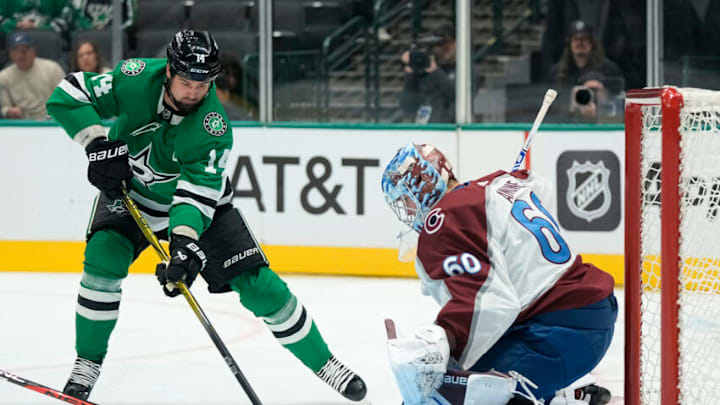 DALLAS, TEXAS - OCTOBER 03: Jamie Benn #14 of the Dallas Stars shoots the puck against Justus Annunen #60 of the Colorado Avalanche during the first period at American Airlines Center on October 03, 2023 in Dallas, Texas. (Photo by Sam Hodde/Getty Images) /
The Dallas Stars have a really tough upcoming schedule of games on their schedule and it all starts tonight as they take on the Colorado Avalanche. It's going to be a really good test for the Stars as we look to see if they are actually contenders this season. With the Avalanche right behind the Stars in the standings, a win for the Avalanche would bring them within a point of the Central Division lead. Here are the three keys of the game for the Stars against the Avalanche.
Dallas Stars vs. Colorado Avalanche Preview: 3. Let the offense flow tonight
I really want to see all lines get in the scoring action tonight against the Avalanche. When everyone chips in on offense, the Stars seem to play a lot better and their game is not inconsistent. However, it will not be easy with the Avalanche tonight. They are angry that we overtook them for first place in the Central Division and they want their spot at the top back. If the Stars can get on the scoreboard a lot tonight, I like the Stars' odds of adding to their Central Division lead.
Dallas Stars vs. Colorado Avalanche Preview: 2. Stop Mikko Rantanen
The Stars need to make sure to keep an eye on Mikko Rantanen tonight on the ice. As I pointed out in this morning's article, Rantanen is the leading goal-scorer for the Avalanche going into this matchup and it will be a tough test to stop him. Miro Heiskanen needs to be assigned to cover him defensively tonight. I don't want him to get too comfortable tonight in the Stars' zone. If the Stars can shut him down tonight, I like our odds of beating the Avalanche tonight on home ice.
Dallas Stars vs. Colorado Avalanche Preview: 1. Need to remain focused regardless of the outcome tonight
The Stars can't get cocky tonight if they win tonight's game against the Avalanche. They have another tough game against the New York Rangers on Monday night. These next four games are going to be a really good test to see if the Stars need to make a move at the deadline or if they can keep their current roster moving forward. Every player needs to lock in and have a "next game mentality whether they win or lose.