Dallas Stars Begin Winning Streak for Second Time this Season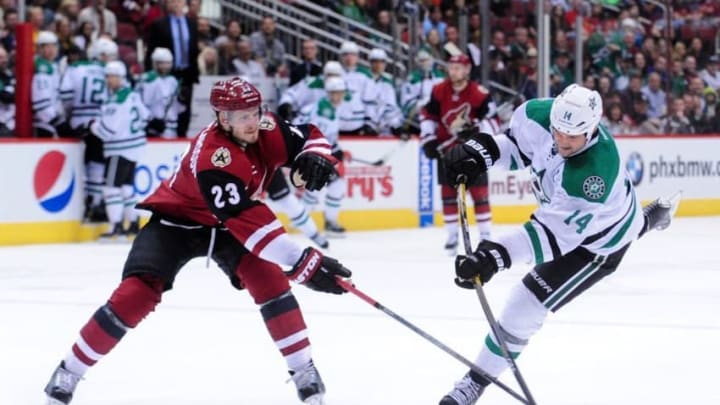 Mar 24, 2016; Glendale, AZ, USA; Dallas Stars left wing Jamie Benn (14) shoots as Arizona Coyotes defenseman Oliver Ekman-Larsson (23) defends during the third period at Gila River Arena. Mandatory Credit: Matt Kartozian-USA TODAY Sports /
The Dallas Stars found a way to outdo the Arizona Coyotes on the road on Tuesday night. They now own a two-game winning streak for the second time this year.
The Dallas Stars had a rather odd start to the day as their plane had an issue that prevented them from their regular take off and led to their morning skate taking place in Frisco. Despite the obstacles, Dallas defeated the Arizona Coyotes 3-2 in regulation to gain just their second two-game win streak of the season.
Recap
The first period saw a number of chances for Dallas, including a Jamie Oleksiak shot hitting the post, but the Stars and Coyotes went into the first intermission 0-0.
The second period featured a shorthanded tally by Jason Spezza that put Dallas up 1-0. About a minute later, though, the Coyotes scored to tie the game. Jamie Benn then got in on the scoring and put Dallas up 2-1 with a power play goal from the back door.
At the end of the frame there was a pretty severe outbreak of aggression in front of Arizona's Mike Smith's net. It resulted in six penalties and there was nearly a fight between Smith and Radek Faksa. Thankfully for the referees, though, the period ended shortly after with Dallas leading 2-1.
The third period was scoreless until Smith was on the bench for the extra attacker and John Klingberg netted an interesting empty net goal. On a clearing attempt that would have otherwise been icing, the puck curved just enough to enter the empty net.
Then Arizona was awarded a penalty shot with 6.6 seconds remaining in regulation after Esa Lindell covered his hand on the puck in the crease and Radim Vrbata scored to make it 3-2. That goal, however, was not enough for a comeback and the Stars walked away with a 3-2 victory and two points.
Thoughts and Observations
Boys will be boys
Although the phrase "boys will be boys" seems to justify more negative behavior than anything else, it is applicable in this scenario. At the end of the second period the Stars and Coyotes displayed more animosity than would be expected from two teams that rarely play against each other, but alas they stood yelling at one another.
The referees decided to get involved only as much as necessary and made it so that the penalties evened out.
More from Analysis
From the Stars' perspective, though, it was a great turning point it the game. They were able to get under Smith's skin and frustrate him so much that he was willing to fight a much more capable and equipped Stars forward in Faksa.
That is not something that will be present in your average NHL game, or hockey game in general, because goaltenders are often very strong mentally. In a one-goal game heading into the third period on the road, having Smith's mental game seemingly unstable tipped the ice in Dallas' direction.
Special Teams Showed Up
Each of Dallas' first two goals were scored during special teams. Spezza's tally to get scoring underway for the Stars was a shorthanded goal that rejuvenated a Stars club that had a lot of obstacles in getting to Arizona.
That was followed up by Jamie Benn's power play goal to restore their one-goal lead. While the goal itself was not as skilled of a tally as Benn is accustomed to scoring, it put the captain back on the board.
This component of their game has not been as positive as they would have liked, especially with the struggles of their top forwards. Spezza and Benn, however, found themselves on the goal-scoring side of the game. This will hopefully encourage more confidence when it comes to offense for those players moving forward.
Supporting Players were Impressive
Kari Lehtonen stopped 35 of 37 shots on goal tonight and that is including a penalty shot against. Although the Coyotes are a rebuilding team with a lot of issues in their game, that kind of performance is difficult in the NHL.
Any team in this league has a legitimate chance at winning each and every night, so for Dallas to overcome their travel adversity and come out on top is impressive. It is also a testament to their mental strength at this point in the season, even though their season has gone far from expected.
Radek Faksa also had an impressive outing tonight for Dallas. He was involved in all three zones and makes a point consistently to get back and help out his teammates in his own zone. That tendency makes No. 12 standout on the ice despite his elite company and it will be a reason why he is in the line-up in the future as well.
Next Game
The Stars will aim to get on their first real winning streak of the season as they head home to host the Colorado Avalanche Thursday night.