Dallas Stars News: Tyler Seguin, Hurricane Harvey, And Skating Around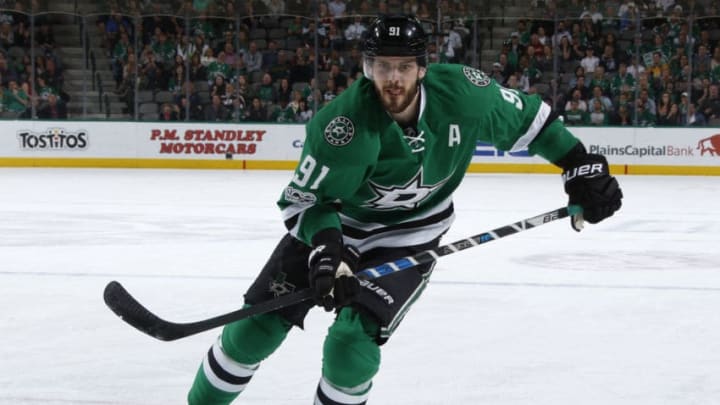 DALLAS, TX - APRIL 6: Tyler Seguin /
There is plenty of news circulating around the Dallas Stars franchise as the month of September opens up. Keep yourself up to date with it all here.
It's September 1, and that means that the Dallas Stars and the rest of the NHL are close to returning to the ice. Feel free to get excited if you haven't already.
But even though the Stars have not hit the ice for training camp yet (though we're only two weeks away), they are still making headlines in different ways. The Dallas Stars newsroom is full of happenings and recent updates.
If you have not heard any of the recent news, feel free to catch up below.
More from Blackout Dallas
Tyler Seguin wins 3-on-1 hockey
Yes, you read that headline right. But it wasn't against professional-level hockey players. Instead, it was against the crew of 1310 The Ticket, the DFW sports radio station. Seguin went up against three radio analysts and 14-year-old Casey as their goaltender.
As an army of one, Seguin found a way to put up seven goals on the board while the opposition struggled to score two in an empty net. Seguin skated around half speed for the majority of the contest, and it was a rather hilarious affair.
Seguin helped out with the show to pay for a bet he made with Bob Sturm at the end of last season in regards to the World Junior Championship between the USA and Canada. No. 91 had surgery on a torn labrum at the beginning of the offseason, so a 7-2 victory with no injuries or setbacks was nice to see.
Stars helping with Hurricane Harvey
More from Dallas Stars News
If you have access to any form of news or social media, chances are you know about all of the horrible recent events that have happened in the Houston area and all across the Southeast Texas area.
Hurricane Harvey struck last week down south and has been considered by many meteorologists to be a "1 in 500 years" hurricane. The majority of the city is underwater, the damage is insurmountable, and rescue efforts have been ongoing for a week now.
Though the storm has wreaked havoc, it has also brought Americans together in an effort to help their fellow citizens in need. Millions upon millions have been made in donations for relief aid, and just about everyone seems to be pitching in to help the city of Houston get back on its feet.
The Dallas Stars jumped on board with this trend today. At the Trusted World Donation Center, Stephen Johns and Dan Hamhuis were two of the many helping load donations that will be sent to those affected by the hurricane.
If you have not donated yet and have the ability to, there are plenty of charities to donate to, including the Red Cross, Salvation Army, and Humane Society. It's been amazing seeing the state of Texas and country as a whole surrounding the southeast region and lifting them up.
We continue to keep those affected by Hurricane Harvey in our thoughts and prayers. #TexasStrong
Players skating around in Frisco
With the end of summer, school is getting back in session. Hockey practice is also getting back in session.
A few Dallas Stars made their way back to Frisco over the past few days and have already hit the ice. On Tuesday, a multitude of Stars hit the ice, including Tyler Seguin, Antoine Roussel, and Dan Hamhuis. Even former Star Ales Hemsky hit the ice with his former teammates.
Yesterday, new goaltender Ben Bishop was on the ice with old goaltender Antti Niemi.
And earlier today, there were another group of Stars on the ice. Expect that number to slowly grow with each passing day as more and more players make their way back to Dallas to prepare for training camp. It's been a long summer, but the light at the end of the tunnel is finally becoming visible.
Next: Bold Predictions For The Stars' 2017-18 Season
That's about all we have for now, but make sure to stay tuned for more possible developments. It's getting to be that time of the year, and we couldn't be happier.