Dallas Stars: Sincerity Of Sports Highlighted In 1999 Stanley Cup Rewind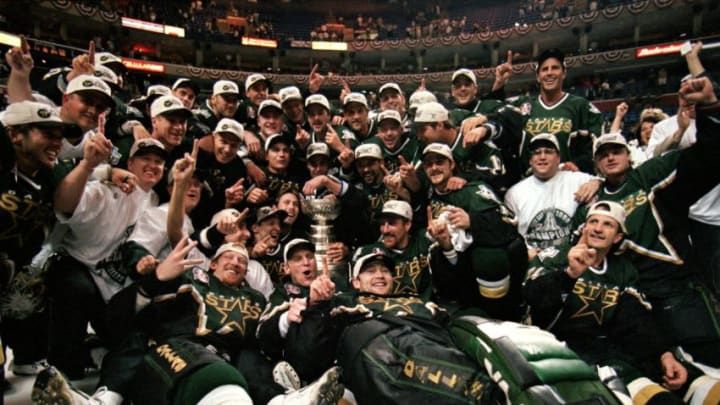 19 Jun 1999: The Dallas Stars pose for a team photo with the Stanely Cup trophy as they celebrate the win over the Buffalo Sabres at the Marine Midland Arena in Buffalo, New York. The Dallas Stars defeated the Sabres 2-1 in the third overtime. Mandatory Credit: Elsa Hasch /Allsport /
FOX Sports Southwest just finished re-airing each of the Dallas Stars' 16 wins in the 1999 Stanley Cup Playoffs that led to the franchise's only championship. And while it was a rerun and trip down memory lane for many, it was my first chance to watch it.
"Wow, that 1999 Dallas Stars team really was something else."
Someone once told me that a moment lasts only a second, but the memory lives on forever. And in the past two months, the opportunities to reminisce on our favorite memories have been plentiful.
Whether you've been self-quarantined with family, roommates, or are spending this time by yourself, the inability to follow a usual routine has left us all with a void to fill. For many, that void can be filled by looking back and reliving happy memories from when life was normal.
Maybe that means looking through photo albums or calling old friends to check on them. Maybe it's reenacting some fun pastimes or traditions like a family movie night that may have been lost over the years due to the hustle and bustle of life.
More from Editorials
Regardless of what you do or how you do it, there's a need to relive things right now. They bring about a sense of joy that can be difficult to find during these unprecedented times.
And that's where sports come into play.
While professional, minor, and college sports in North America have either been on hold or effectively canceled since March 12 due to concerns regarding the coronavirus pandemic, those in sports media have been forced to adapt and find alternatives. Writers are tackling unique and creative topics, such as "top lines in franchise history" and "what the [insert team name here] could look like in five years." Those in digital and broadcasting are trying to polish their skills while preparing for a hopeful resumption in the near future.
But for regional and national sports networks, this uncertain time has been largely dedicated to memories. After all, when there's no live sports action to broadcast or cover and the idea of future sports action still hangs in the balance with each passing day, turning to the past is the only other viable option.
It's gotten to a point where you could watch up to 3-5 different reruns of great sports games or moments in a single day without any overlap.
On this Wednesday alone, you could catch the 1998 SEC Football Championship, Game 4 of the 2003 World Series, Game 5 of the 2013 Stanley Cup Playoffs, and Game 1 of the 2011 NBA Western Conference Finals across five different TV channels (so get to your viewing station if any of these interest you).
Regional sports networks, on the other hand, have dug into the archives of the teams they cover to provide fans with a unique look into the past.
That includes FOX Sports Southwest, otherwise known as the home of the Dallas Stars, Dallas Mavericks, San Antonio Spurs, and Texas Rangers.
Over the past month, FSSW has given DFW sports fans a chance to dive into the history and most successful moments of their favorite teams. Some of those moments include the Mavericks' run through the 2011 playoffs to their first and only NBA championship, the Rangers' back-to-back AL pennants and World Series appearances in 2010 and 2011, the Spurs' title in 2014, and the Stars' run through the 1999 Stanley Cup Playoffs that ended in the franchise's lone Stanley Cup win.
For a 22-year-old sports diehard that grew up in Keller, Texas admiring the likes of Dirk Nowitzki, Mike Modano, Michael Young, and Tony Romo, this look back has been a rather eventful one for me and has accessed a number of memories.
I remember sitting in the living room of my old house along with my mom and dad when the Mavs made history and defeated the "Big 3" in Miami in Game 6 to clinch the Larry O'Brien Trophy. I remember the intense wave of emotion that flooded through me when I realized that the team I had followed and supported through thick and thin since I could comprehend sports had finally done it. They had finally reached the top of the mountain. All of the years of heartbreak, missing the mark, and coming up just short had been worth it.
I remember when Neftali Feliz struck out Alex Rodriguez in Game 6 of the 2010 ALCS to clinch the first AL pennant and World Series berth in Texas Rangers history. And though I didn't become fully invested in the Rangers and the MLB as a whole until 2007 or so, the storybook ending to that series still hit home in my sports conscience.
Live Feed
Jose Ramirez homers on birthday, Guardians complete sweep of Rangers /
Away Back Gone
So, reliving each of those memories with my parents and close friends over social media and texting has been a one-of-a-kind flashback.
But when it comes to the Dallas Stars winning the Stanley Cup, my memories are rather scarce. That's primarily because I was likely sleeping during each of the 23 games that made up their run through the 1999 Stanley Cup Playoffs.
I was one year old when the Stars began their '99 postseason journey in round one against the Edmonton Oilers. I turned two years old the day they beat the St. Louis Blues in Game 5 of round two to take a 3-2 series lead. And I was a little over 25 months when Brett Hull scored the game-winning goal in the third overtime of Game 6 of the Stanley Cup Final against the Buffalo Sabres to clinch the Cup.
So, my memory reserve for the greatest team in Dallas Stars history is rather non-existent. I blame my parents for not having me a few years earlier.
As a result, I couldn't help but anticipate the Stars' reruns on FSSW as I did the Mavericks' and Rangers' runs when the programming schedule was released. It was my first run through a rerun. Though I had watched a handful of the Western Conference Finals and Stanley Cup Final games on NHL Network over the years, I had never seen the four rounds altogether.
And while none of the losses in each team's journey to the history books were included in the re-airings, watching each of the 16 Stars' victories in order for the first time gave me a unique opportunity to finally "see what I missed" while also working each game for FOX Sports Southwest's social media channels.
With the Cup being raised late Tuesday night after a 3OT win in Game 6 against the Sabres, I now feel considerably more in-tune and connected to the Stars' run to glory back in 1999.
And whether it was your first or fifth time reliving that championship push, one common thought can be agreed upon: that 1999 Dallas Stars team was something else.
But they knew that before the 1998-99 season even began.
"I go back to training camp in Vail," Modano said in the Playoff Rewind show on FSSW. "I think we felt at that particular time that we knew that it was a Stanley Cup team. We had all of the pieces in place and went out and got everything that we needed to fill as far as goaltending, great defense, some goal scorers, and quality and character guys that show off and play so well for us in crunch time."
That confidence and trust in the lineup and organization from puck drop in the first game of the season can carry a team far if everything clicks. And for the Stars, it did.
This was a Dallas Stars team that had spent the preceding seasons coming up just short of the final round. They had been to the playoffs in four of the five previous years and had seen their journey to the Stanley Cup Final cut short in each of the first three rounds at least once.
More from Blackout Dallas
So, there was no shortage of experience of tough finishes within the lineup. But those experiences also served as motivation.
"I think the biggest thing that comes to mind is that we paid our dues," Hatcher said about the 1999 team on the Playoff Rewind show. "It was a building process."
And so, after a 51-19-12 campaign that included Mike Modano's 300th goal, Ed Belfour and Roman Turek combining to secure the Jennings Trophy for fewest goals allowed by a team, a President's Trophy, and a number of other noteworthy achievements, the Dallas Stars entered the Stanley Cup Playoffs once again.
It all started with a series against the eight-seed Edmonton Oilers. And while the Stars would eventually secure a four-game sweep and advance to the second round, it was a series filled with twists and turns. Each game was decided by one goal, the Stars had to comeback from a deficit in all but one game, and the series ended in a 3OT thriller that saw two exasperated and physically drained teams duke it out for 117:34 until Joe Nieuwendyk scored with a deflection to end the series.
There was physicality. Vicious hits and scraps dominated the first handful of games. Edmonton goalie Tommy Salo faced an average of 37 shots per game and forced a high-powered Stars offense to earn each goal. Dallas had to navigate the series without their captain and blue line enforcer in Derian Hatcher, who was serving a suspension at the time.
We got a chance to see the first instances of what would turn into an ultimately productive and dominant postseason for Jamie Langenbrunner, who fell two goals short (10) of matching his regular season total (12) in 52 less games. And of course, Joe Nieuwendyk took control in the biggest moments of the series, including scoring the game-winning goal in the final two games.
Then came a second-round date with the St. Louis Blues. Eddie Belfour squared off against a goaltender he idolized while growing up in Grant Fuhr. Two young head coaches by the names of Ken Hitchcock and Joel Quenneville were both at the first stop of what would eventually turn into 20-plus year careers behind NHL benches and two of the top-three spots on the all-time wins list by an NHL head coach.
This is also where the Dallas Stars faced their first true dose of adversity in the playoffs. After winning the first two games on home ice by a combined score of 8-4, the Blues countered with two wins of their own in St. Louis to tie the series at 2-2. From there, the Stars battled back to claim Game 5 on home ice and eventually seal the series with an overtime win in Game 6 that was decided by Mike Modano's first playoff OT game-winner.
Langenbrunner and Nieuwendyk continued their streaks of dominance while skating on the same line, while Jere Lehtinen became another consistent offensive weapon in the Stars' arsenal with three goals and an assist in the series.
Then came the Colorado Avalanche and a seven-game Western Conference Finals for the ages that required Dallas to do the "impossible" and win a Game 6 in Denver to avoid elimination after dropping a lopsided 7-5 loss in Game 5 on home ice.
""It was just a magical year. It flowed from October all the way through June. There were really no rough spots in the season that we had." – Mike Modano, from FSSW's Playoff Rewind"
But the Stars wouldn't be denied. Eddie Belfour proved to be better than Patrick Roy in the clutch, allowing two combined goals in the final two games while the Dallas offense rattled off eight in the other end. Dave Reid stepped up with a goal and assist on the road in a big Game 3 win that helped Dallas gain the upper hand in the series.
And when it came to the final two games, he tacked on three assists while Langenbrunner, his line mate, found the back of the net three times to help the Stars close out the series. And how about the veteran winger Mike Keane tacking on two goals in Game 7 to seal the deal?
That team was the definition of resilience.
With all of the adversity, challenges, and the consistent ability of the entire lineup to answer the call when necessary that carried the Dallas Stars through the first three rounds of their "magical" run, the stage was set for a memorable Stanley Cup Final duel with the Buffalo Sabres.
The storylines were abundant. Mike Modano's wrist injury in Game 2 that could have sidelined him for the remainder of the year had he not exhausted a number of casts and options that would at least allow him to stay in the lineup and continue skating. And while he didn't find the back of the net in the final four games because of the injury, he posted five assists, including one on Hull's game-winner in Game 6.
Eight different Stars skaters scored a goal during the series. Belfour put together his best series of the playoffs, posting a 1.26 goals-against average and .941 save percentage while going up against Dominik Hasek, who had won the Vezina Trophy, Hart Trophy, and Lester B. Pearson (now known as the Ted Lindsay Award) in each of the previous two seasons and was considered by many to be the best goaltender in the NHL at the time.
Live Feed
2023 team report cards: Panthers shock everyone but run out of gas /
Puck Prose
Sergei Zubov put on a clinic on the blue line, combining offensive and defensive skill with durability. He ended the playoffs with 13 points (one goal, 12 assists) and averaged 30 minutes, 16 seconds of ice time through 23 games, including 54:09 in the deciding Game 6 against Buffalo.
And yet, the Dallas Stars wouldn't be denied. After losing Game 1 on home ice, they battled back to win the next two and take the series lead. When the series was split going into Game 5, they proceeded to outscore the Sabres 4-1 in the final two games and outlast Buffalo in 114:51 of Game 6 action to clinch the Cup.
You could also witness the feelings and emotions that reverberated throughout the team after the game-winner glowed through the screen, even with 21 years now separating us from the original celebration. It's the type of feeling that comes with great achievements in sports and is one that can rarely be duplicated. It's also different for each person that partakes in it, whether player, coach, fan, media member, or a neutral party with no affiliation to one side or the other.
But that's one of the feelings that is so distinctive and encompasses what makes sports so great.
"I'm so happy. I just can't believe it. I can't believe it," Nieuwendyk said shortly after the game ended.
"You can have all of the other [achievements], because this is the biggest thing for me. You've dreamt about it, I dream about it. It's unbelievable," Hull added.
"To finish by winning it on the road and getting it over with, it's phenomenal," Modano said.
"Today is the happiest day of my life. It's just unbelievable," Belfour noted.
It was a feeling of dominance. It was a journey completed. And for many on the team, it was a dream realized for the very first time.
As I watched the celebrations and heard from various players on the Playoff Rewind show that followed, I did what most sportswriters do after a significant sports moment and collected my thoughts on the 16-win run that I had just endured.
It was impressive and it was dominant. It was challenging and it was a rollercoaster. The 1999 Dallas Stars were the epitome of "a team on a mission." They had paid their dues in the seasons leading up to the 1998-99 campaign that would forever be remembered. The team was headlined by six future Hall-of-Famers (Modano, Nieuwendyk, Zubov, Belfour, Hull, and Guy Carbonneau) and boasted a perfect balance of young skill and veteran experience.
They had a rare one-two punch with their top two lines on offense that could deliver on every shift. And even with all of the high-profile scorers, the team still thrived largely on its defensive and goaltending backbones along with a formula from Hitchcock that was built for playoff hockey.
Everything just seemed to fall into place because the Stars made it that way. Had my two-year-old mind endured and been able to comprehend the journey, I would have been just as impressed as everyone else.
And while every Cup-winning team in the NHL is unique in its own way, that Dallas Stars club truly was one-of-a-kind.
They forced hockey into the spotlight in the DFW sports landscape after working their way up the ladder for a few seasons. The crowds at Reunion Arena seemed to get louder and rowdier with each goal, big hit, and win that came with the run. Fans embraced the team wholeheartedly after six years of building and brought passion and energy to the postseason that proved that hockey could work and thrive in Texas and the south.
For that one year, they were the talk of the town in Dallas. While the Mavericks were wading into what would become an impressive 21-year push with a 7'0 German power forward, the Cowboys were coming down from a high that included three Super Bowls in the first half of the 1990's, and the Rangers were on the brink of a 10-year playoff drought. Hockey in Dallas was the hot topic.
And while the playoff journey and the stories of the parade and parties are still spread today and provide us a laugh, they also remind us of just how special and rare it is for a team to win a championship in sports. Every season comes with 30-32 challengers in pro sports, yet only one of them can be standing at the end and take home the prize. Those aren't the best of odds.
Live Feed
NHL 24: Predicting the highest rated players at every position /
App Trigger
To witness that Dallas Stars team fight through the challenges and waves of adversity and secure the only Cup in the franchise's history reminds us of how special sports are and why we love them so much.
Whether we think about it or not, these rewinds can do a lot for sports fans. They can reignite happy and unique memories for those that lived through the championship runs when they happened live. They can also provide a lens for those who didn't get a chance to witness them in their entirety when they initially happened.
That 1999 Dallas Stars team was a special one, and it's not just because they are the only one to go the distance in the franchise's history. That team is special because of the buildup they endured. It's because of the journey they pieced together and all of the highs and lows they combated as a single unit. It was the selflessness and buy-in of every member. And while they all went their separate ways eventually, the bond that was created from that season lasts forever.
That's what you want in a championship team, and that's why they are still so highly regarded among fans and followers of the team over two decades later. I now have a substantially better understanding of why longtime Stars fans talk so highly and frequently about that 1999 team when I interact with them in person or on social media. They really were just that special of a team.
The 1999 Stars are a microcosm of why sports are so special in our lives. We have a chance to fully invest in a group or organization that we believe can achieve greatness. Exhilarating highs are introduced, but challenges and adversity also come into play. There is heartbreak that can turn into excitement, so long as we endure and persevere. They are a rallying cry for all involved that can turn into a thrilling movement for cities, states, and countries.
Sports can create some of the happiest and bitterest memories in our lives. And that's why we tune in. The unpredictability of the situation on a given night gives us a feeling that few other instances can produce. It's like sitting through a new movie every night where you know the plot and main characters, but are clueless on how it might conclude.
In these rewinds, we get a chance to relive (whether for the first or fifth time) those movies with an assurance that they will end positively. They also remind us of how fulfilling a championship run can be and feed the desire to be a part of the next one, whether as a fan, follower, employee, or media member of the organization.
Perhaps that's why they are so extraordinary.
Wow, that 1999 Dallas Stars team was something else.