Time For A New Adventure: Thank You, Dallas Stars Fans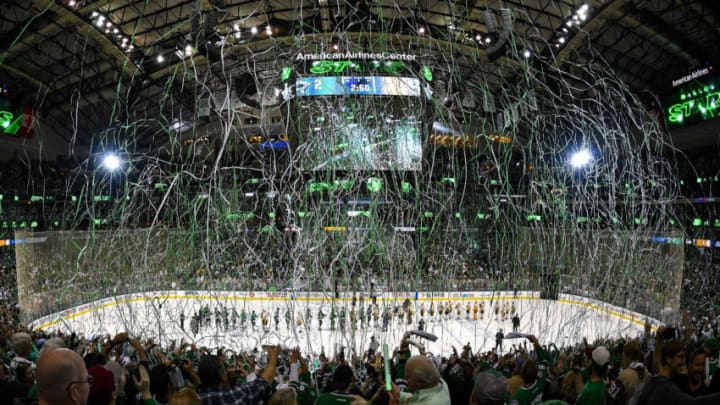 Apr 22, 2019; Dallas, TX, USA; The Dallas Stars fans celebrate the win over the Nashville Predators during the overtime period in game six of the first round of the 2019 Stanley Cup Playoffs at American Airlines Center. Mandatory Credit: Jerome Miron-USA TODAY Sports /
As the year comes to a close and the Dallas Stars prepare for a unique 2020-21 season, it's time for me to partake in a new and exciting adventure of my own. But before I begin telling Stars stories from a new medium, I have to stop and say thank you for, well, everything.
Blackout Dallas? What an odd name for a Dallas Stars website.
That was the first thought that crossed my mind in March 2014 when I first saw the "Help Wanted" ad while scanning the Bleacher Report app to find updates on the Stars' upcoming game against the Nashville Predators. Dallas was in the thick of the Western Conference playoff race as they attempted to end a five-year postseason drought, and I wanted to stay as up-to-date as possible as the regular season drew to a close.
I didn't have any intention of taking the first step in what would eventually become a winding and eventful career path as I scrolled through the bundle of stories and tweets. But, as a junior in high school with my mind already set on studying sports media or journalism in college in hopes of one day becoming a sportswriter, I went ahead and sent in an application to FanSided. After all, I liked writing and was a diehard follower of the Dallas Stars, so why not give it a shot?
More from Blackout Dallas
About a week later, I got my offer email to join the site as a staff writer and took it. The team was hot, the playoffs were around the corner, and a new era of Dallas Stars hockey was unfolding, so why not see where the road might take me? And if I tried it for a bit and didn't like it, I could walk away without any penalty or worry.
Fast forward 2,461 days from when I published my first story (an atrocious and very poorly written preview of the Stars-Panthers game, by the way) on the site, and it looks as though that road has finally reached an endpoint. But it's not a sad one by any means.
After a wacky 2020, it feels good to end on a positive note. I'm proud to announce that I accepted a job with the Dallas Stars to be their Graphics Coordinator for broadcasts.
It's a role that revolves around two things that I sincerely enjoy: researching and storytelling. In other words, I will be tasked with filling in all of the graphics seen during all Dallas Stars games on FOX Sports Southwest with the best storylines, trends, statistics, and notes that I can dig up on a given player, opposing team, head-to-head matchup, etc.
It's a large step in my sports media career, but I'm ready for the opportunity. I'm excited for the new challenge and have some of the best people in the business supporting and helping me get ready for puck drop on Jan. 14.
But before I take that next step, I must extend my gratitude and thank each and every one of you. After all, it's because of y'all that I reached this point.
Over the past 81 months, I've penned 2,465 stories here at Blackout Dallas. It started as a hobby for a high schooler with a love for hockey. In June 2014, it got a bit more serious when I became site editor. And as the next few years played out, my time with the site came to mean so much more.
I remember when I drove out to the Fort Worth Convention Center on a hot and humid Sunday, Sep. 21, 2014 for the third day of Stars' training camp. The team had an intra-squad scrimmage schedule for 10 a.m., and it was open to the public. I had been to camp the day before for group practices, but wanted to get a firsthand look at how the 2014-15 Dallas Stars were shaping out.
During the first intermission, I ran into Mark Stepneski (who some of you may know as @StarsInsideEdge). I decided to introduce myself, tell him about my career aspirations, and ask him if he might be able to impart any wisdom as I started up a new season at Blackout Dallas.
Live Feed
NHL 24: Predicting the highest rated players at every position /
App Trigger
But Mark, who I will forever point to as the one who helped set my sports media life into motion, skipped the formalities and advice and instead gave me his contact information. He told me shoot him a message if I ever wanted to shadow him at a game.
I took him up on the offer two months later and attended my first game as a member of the media on Nov. 22, 2014. The Stars were taking on the Los Angeles Kings, but that was just the tip of the iceberg in terms of storylines. It was Jason Demers' first game as a Star after being acquired in exchange for Brenden Dillon, and Mike Modano was being honored pregame for his recent induction into the Hockey Hall of Fame.
Getting to be a part of all of that was pretty surreal (and still is to this day) to me, and it only fueled my goals.
That one game turned into five games (and exit interview day) shadowing Mark during my senior year of high school. Those five turned into five more in the 2015-16 season during my freshman year at Mississippi College, and that eventually led to getting my first full-season credential as a member of the media prior to the 2016-17 season.
From there, the rest is history. But it's because of each and every one of you that this journey even happened in the first place.
When I first took over the site as editor, I was a 17-year-old with a lot of free time on my hands during summer vacation. As a result, I cranked out 70+ stories in my first month at the helm, and followed it up with 65 or so in the following month. At the time, the site had around 900 followers on Twitter and was garnering around 2,000 total story views each month (not the best numbers). But at the time, I wasn't worried as much about results as I was about getting better at the job.
As my writing and reporting skills continued to bud, so did the site, both in following/readership and contributors. I'll be forever grateful for Allison Scott, Micaela Hamid, Nick Kucholtz, Tom Dorsa, and handful of other staff writers and contributors that helped me get this site off the ground and running like a well-oiled machine. They were instrumental in its success (and my sanity, for the matter), and I cannot thank them enough for not only being great co-workers, but also great friends.
The support of some of my best friends in high school like Hunter Haws, Grant Collins, Caleb Calabrese and a few others helped initially propel me into the sports media field (as well as see some other NHL rinks when we decided to go on road trips during holiday breaks in college).
And then came college and a four-year journey of reporting on the Dallas Stars from 395 miles away. It started with getting Kenneth Nash, my freshman year roommate and fellow North Texan, hooked on the team and the sport as a whole. After taking him to opening night in 2015 against the Pittsburgh Penguins, he was locked and loaded.
Five years later, we just put together an 11-month run co-hosting the Locked On Stars podcast that included daily episodes on a strong February, 0-4-2 skid that led to a pause due to a pandemic, bubble hockey, an unparalleled run to the Stanley Cup Final, and a wacky autumn offseason. And while I will now step away from the podcast, Kenneth will continue on as the lead host and do a fantastic job. Make sure to check it out.
More from Editorials
But one conversion turned into many as I brought the NHL to people that I now call my best friends. Bo McCrary and Colt Haynes got the chance to attend their first NHL game during our freshman year of college, while Anthony Byrd and a handful of others followed suit in the years to come.
They were quick sells, and it wasn't long before they were in my dorm room each game night to watch the Stars. They would eventually become my roommates and witnessed me and my many late nights writing about the team. Whether it was the glow of my computer screen in an otherwise pitch-black room, or the "I'm just finishing up an article, be ready in five," excuse that rarely turned into anything less than 20 minutes, they supported me every step of the way as their own admiration for the sport grew. I'll always be thankful for that.
There are also the experiences that accompanied this job. In addition to writing about a number of intriguing and entertaining games, players, teams, and storylines, I also got to cover the team from a number of other angles.
That includes my internship at FOX Sports Southwest in the summer of 2018 that eventually turned into a position as a social media coordinator in charge of covering all things Dallas Stars. Working with the FSSW social team for the past year and a half has spawned a number of friendships with coworkers, and I'm grateful for each one of them and the support that they've given me over the past 19 months.
It also included an internship with the Dallas Stars Production team (another big thank you goes out to Cody Eastwood for being an amazing person, mentor, and networker) during my senior year of college. The 400-mile drives back to Dallas to trek around the American Airlines Center with Shon Niswanger, Matt Johnston, Jeff Toates, and others with a camera in tow to grab in-game footage during the Stars' 2018-19 run will forever be some of my favorite memories of college.
Live Feed
Why the Canucks opted to sign Braden Holtby, and part with Jacob Markstrom /
FanSided
And then there's the job at NHL.com. I mean, to become the Dallas Correspondent and go from covering the Stars for a fan blog to covering them for the League's website just two months after graduation? Get outta town. Many thanks go out to Barry Rubinstein, Bill Price, Shawn Roarke, and the countless others that gave me an opportunity to tell Stars stories on a much bigger platform.
But in addition to the exciting experiences that Blackout Dallas granted me, it also helped me build a strong network within the organization. I'm thankful for Tom Holy, Ben Fromstein, Joe Calvillo, Christa Melia, Chelsea Livingston, Colleen Hamilton, Becca Berger, Ashley Ernisse, Rick Jensen and countless others that I connected with over the past few years. They are outstanding friends, co-workers, and people, and I'm grateful that I will be able to continue interacting with many of them (once things return to normal, of course).
There's also the media members. I never imagined that connecting with Mark Stepneski at 2014 training camp would lead to connecting and befriending so many great and talented people doing the same thing as me.
I'll really miss the press box on game nights. I'll miss sitting next to Sean Shapiro in the press box on game nights and tossing useless statistics in his direction just in case he might want to tweet them out. I'll miss showing Mike Heika the most recent Peanuts comic strip that came across my Twitter feed and joking about the Detroit Lions' playoff hopes. I'll miss chatting with Matt DeFranks, Saad Yousuf, Owen Newkirk, Bruce LeVine, Lary Bump, and Taylor Baird about random topics. I'll miss the postgame chats and walks to the parking garage with Jeff Odom.
I'm lucky to call them all friends and am grateful for all that they taught me. I'm also thankful that I'll be able to stay in contact with many of them in my new role.
With each step that I took, I was greeted with support and backing from family, friends, professors, coworkers, and the great people at FanSided that took a shot on a 17-year-old back in 2014. I'll never be able to thank them enough for all that they've done.
This Blackout Dallas gig turned into something that I never could have even dreamed up. I got to cover the Jim Nill era of Dallas Stars hockey from its early days, four different head coaches, an NHL Draft, a Winter Classic, and a run to the Stanley Cup Final. I got to write one of my favorite stories to date about the life and tales of Michael Gruber (better known by all as Grubes). I wrote a story on Radek Faksa transforming into a dynamic center that landed me a spot on the NHL Network's SiriusXM show to talk Stars hockey on New Year's Day 2017 (a rare, but nonetheless baffling opportunity for a 19-year-old). As the Stars' adventure went over the past seven years, so did my keyboard.
Along the way, I've watched the site go from 2,000 monthly page views to upwards of 120,000, a small Twitter following grow into a community, and my writing skills sharpen significantly.
I never knew when or how this road at Blackout Dallas would end. To be honest, I've hoped that a potential successor would come along at some point over the past 1.5 years (there's a reason that only 60 stories have been posted over the past year when the site used to post 60 per month).
But while I didn't know what would ultimately lead to my end here, I knew that I wanted to cap it off with a thank you.
Whether you have been reading since Article No. 1 or joined up along the way, your support has meant the world to me. Each reply, retweet, and like was a simple reminder of how far I had come and where I wanted to reach, and I have each and every reader over the years to thank for giving me the chance to live out a dream.
Now, this isn't goodbye by any means.
I'll still be covering the team and telling Dallas Stars stories on a daily basis. I'll just be doing so through the magic of television. Going from the press box to the production truck will require plenty of adapting and learning, but I'm excited to see where it takes me.
I'm looking forward to working with some of the best in the business (Josh Bogorad, Daryl Reaugh, Mark Vittorio, Jon Norton, John Sponsler, and Jason Walsh, just to name a few) and contributing to one of the top local broadcasts in the NHL.
But as my time at Blackout Dallas closes, I can't help but look back at each memory – both big and small – that it provided me and smile. Blackout Dallas has become as much a part of my life as breathing over the past seven years. It's been a rollercoaster and one heck of a fun ride, and I'm grateful for every stop that's come with it.
What a way to ring in 2021 and kick off one of the most unique seasons in NHL history.
I'll see y'all on TV real soon. But until then, thank you for reading.